Tourism in Russia hit new highs in 2018, largely thanks to its hosting of the World Cup. With the increasing visitor count fueling a rise in social media posts and press articles highlighting the country's top sites, people are becoming more intrigued about Russia as a holiday spot. And it's not just the major cities that are drawing attention; today's visitors are much more keen to get off the beaten track and find adventure in lesser known cities and towns.
While it may be best known for its world-class ballet, unparalleled art collections and snowy winter scenes, in reality there is so much more to experience in the country. Those that choose to make it their next holiday destination are treated to a diverse range of stunning natural landscapes, top cultural offerings and fascinating history, and a chance to explore it all before everyone else.
With this in mind, here is our pick of the best places to visit in Russia as a tourist – add them to your travel bucket list as soon as possible!
1. Krasnoyarsk

Sitting alongside a pleasant river, Krasnoyarsk is a lively city shrouded in alpine peaks. Alongside offering a range of museums and solid mix of restaurants, Krasnoyarsk also houses a lovely national park, based within the city. If you're able to spend a couple of days here, it makes for some great hiking, and it also has a popular ski centre, making the city one of the best places to visit in Russia for the winter.
2. Kizhi Island

Kizhi Island has to be one of the best places in Russia for lovers of gorgeous old buildings. Dozens of old wooden structures have been transferred here, creating an outdoor museum of homes and other buildings from times long ago. Of particular interest is the Church of the Resurrection of Lazarus, dating back to the 14th century, making it the oldest wooden church in Russia. A range of festivals, including performances and historical demonstrations take place regularly here, so try and time your visit accordingly!
3. Dargavs
While it is also known as the City of the Dead, Dargavs is actually a village. It hosts a cemetery dating back to ancient times, when people were buried in dome-like crypts dotted all over the hillside. There are around 100 tombs to see, some of them up to four stories tall. Day excursions can be organised from the nearby city of Vladikavkaz.
4. Samara
Previously off-limits to tourists until the start of the 90s following the fall of the USSR, Samara has recently enjoyed a spike in foreign visitors after the 2018 World Cup. The city is young and vibrant, with a good offering of cultural activities and a nice range of eating establishments and bars to keep you entertained. A particularly interesting attraction here is Stalin's Bunker – an underground hideout built in the Second World War.
5. Vladimir
Vladimir is an ancient city, with its roots dating back to the start of the 12th century. Nowadays, it is one of the most popular cities in Russia, attracting millions of tourists each year. An interesting mix of old and new sights can be enjoyed here, with an abundance of gorgeous churches sitting amongst the city's eating spots and shops. Vladimir is an easy trip from Moscow, and is usually the first stop in the Golden Ring tour.
6. Kaliningrad
Geographically, the city of Kaliningrad is far from the rest of the country, and therefore may be neglected by tourists planning where to go in Russia. However, it's definitely worthy of a trip over if you can spare a couple of days. It is a cute but bustling city offering plenty of intriguing museums and attractive parks, and even a strip of beach, with great public transport links keeping it simple to get around.
7. Vladivostok

Vladivostok has been named as the San Francisco of Russia, and indeed it sits closer to the US than to Moscow. However, a quick walk around the city will leave you with no doubt that this is an authentically Russian city – even with the eclectic mix of Asian culture dotted around. If you get tired of adventure amongst the city's various islands, bays and hills, there is a vibrant restaurant and nightlife scene here to keep you busy.
8. Vyborg
Stunning Vyborg has plenty of sights and activities of all types, regardless of it you're staying for a few days or just on a day trip from nearby Saint Petersburg. The city houses the sole medieval castle in Russia, and there's also a viking village and the pretty Monrepos Park to visit. Vyborg is also a haven for those in need of a bit of retail therapy, with a range of shops lining the beautiful cobbled streets.
9. Moscow
Russia's capital city has so much to offer visitors it's hard to know where to start. Whether you're into culture, history, nightlife, shopping or food, Moscow has it all. You can enjoy world-class performance art such as opera, ballet, and circus, or take in the incredibly impressive art collections located here. Moscow's museums, churches, and of course the Kremlin, the Saint Basil Cathedral and Red Square, also make this not only one of the best places in Russia to visit in the world.
10. Lake Kardyvach
Lake Kardyvach is one of the best places to go in Russia to escape the city for a while. Located in the Krasnodar region, the lake sits amongst alpine trees and peaks covered in snow, making it a perfect spot for photo opportunities. The water is frozen over for the majority of the year, and as a result the only life in it is little crustaceans. The surrounding reserve does offer some chances to view wildfire such as bears, chamois and snakes, though!
Amazing places, right? Check out my article on how to obtain a touristic visa and get one step closer to Russia.
11. Astrakhan
Astrakhan may be amongst the lesser-known places to visit in Russia, but you can easily spend a couple of days here exploring. You can explore the stunning white kremlin dating back to the 16th century, and there's also museums, art galleries, and an opera and ballet theatre. It's also worth paying a trip to the suburbs to get a glimpse of the wooden architecture and authentic everyday life occurring here, then take a romantic evening walk along the riverfront as the sunset appears.
12. Pyatigorsk
Another of Russia's best-kept travel secrets, the town of Pyatigorsk is another good option to spend a couple of days. Originally a spa town dating back to the 18th century, there is still plenty of spas to enjoy some rest and relaxation. If you're feeling a little more active, a hike up Mashuk Mountain will reward you with a stunning view of the town from above.
13. Volgograd
Originally known as Stalingrad, this is probably the place to visit in Russia for history buffs. Being the scene of an important battle from World War II, Volgograd has various historical sights, such as a huge victory statue and war cemetery. There's lots of other activities to check out here too, with a good collection of galleries, theatres, restaurants, and bars, as well as the handsome waterfront and easy-to-use public transport system.
14. Yekaterinburg
Yekaterinburg may once have been best known as the site where the Romanovs were killed in 1918, but today it has a reputation as one of the best cities in Russia for culture. It is now home to over 30 museums, and has a range of theatres and varied music performances, as well as a thriving culinary scene. It's a great spot to explore, particularly if you're heading to the Ural Mountains.
15. Ulan-Ude

Ulan-Ude is one of the top fascinating places to visit in Russia, and it's easy to reach thanks to it being on the Trans-Siberian Railway route. The city is in eastern Siberia, and offers a really captivating mix of Russian and Asian culture, both in its architecture and food. Because the region is also the home to the Buryati people, you can also enjoy a glimpse into their traditions, food and everyday life here.
16. Veliky Novgorod

Veliky Novgorod, or just Novgorod, is often one of the first picks when people decide where to go in Russia. Its roots date back as early as 862, and this little ancient city is often cited as Russia's birthplace. History-based activities are in abundance here, most of which are based inside the Kremlin, with no cost to get inside and other fun offerings including a beach and boat trips available.
17. Nizhny Novgorod
Nizhny Novgorod is one of the largest cities in Russia, sitting at the meeting of two rivers. A must-do thing here is taking a ride in a cable car, providing fantastic vistas of the area from above. The city's impressive Kremlin is also definitely worthy of an exploration, and there are loads of other historical and cultural sights, including museums, art galleries, and hundreds of statues to explore.
18. Kazan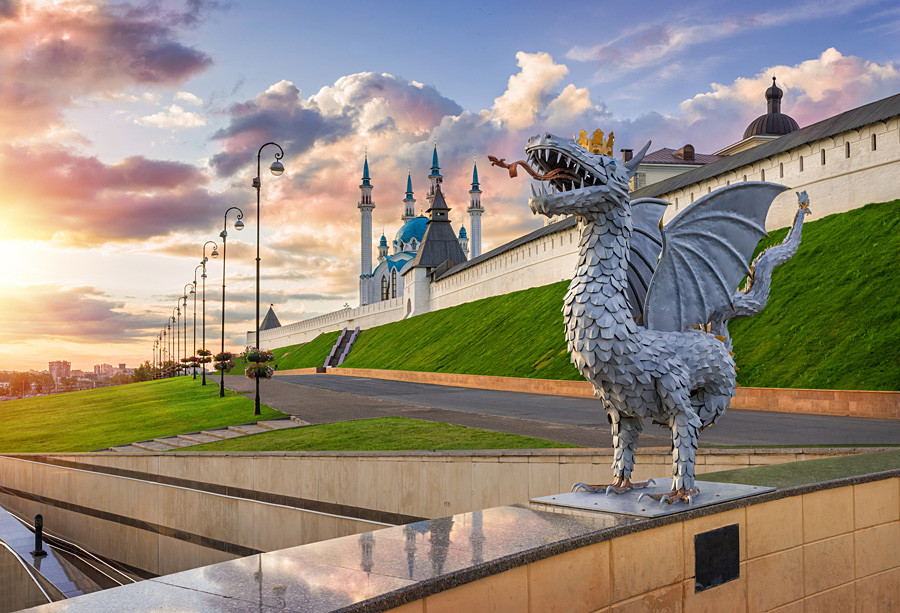 Based by a lovely river, Kazan is even older than Moscow and is one of the best places in Russia to experience the diverse cultures based in the country. Thanks to its based in the middle of Asia and Europe, Kazan enjoys a mix of different cultures, and both Muslims and Christians live peacefully side by side here. The city's kremlin is listed by UNESCO, and houses renowned architecture and enjoyable museums.
19. Lake Baikal
Undoubtedly one of the most famous places in Russia, Lake Baikal is a stunning nature reserve and a must-do for anyone coming to the country. The UNESCO-listed lake is thought to be around 25 million years old, making it the oldest lake in the world, as well as the deepest. The lake freezes over in winter, providing opportunity to ski and ice skate on its surface. There is also diverse types of flora and fauna here, making it an ideal spot for nature lovers.
20. Arkhangelsk
Arkhangelsk is an ideal place to stopover if you're visiting the nearby tourist hotspots of Malye Korely or the Solovetsky Islands. The city has a pretty promenade along its waterfront perfect for evening strolls, and you can still spot some of the old timber homes that were built centuries ago. The city also plays host to a vibrant jazz scene, and served as inspiration for the novel Archangel by author Robert Harris.
21. Yaroslavl
Yaroslavl is located between the Volga and Kotorosl rivers, and is the best place in Russia to see the domed buildings, smattered all over the UNESCO-protected city. These fascinating glimpses at the past date back to the 11th century, and make for interesting photo ops, as do the newer homes and churches, built during the 17th, 18th and 19th centuries.
22. Ussuri Bay
Located 500 km from North Korea, and an easy day trip from Vladivostok, lies one of the coolest places in Russia. Ussuri Bay is home to multi coloured pebbles; broken bits of glass that have been worn down over time to create a rainbow-like effect when the sun glistens over them. These pebbles are a relic left over from Soviet times, when the local factories emptied empty bottles into the bay, and today are an Insta-worthy sight in both sunshine and snow.
23. St Petersburg
Russia's second-biggest city is a UNESCO World Heritage Site, and has activities and landmarks in abundance to keep you occupied at any time of the year. St Petersburg is undoubtedly one of the best cities in Russia to partake in cultural activities, whether that be visiting an art gallery, a museum, or a historical site. The Winter Palace is probably the biggest draw to adventurers visiting, and there is also plenty in the way of performance arts, such as ballet and opera.
24. The Golden Ring
The Golden Ring is amongst the best-known Russia tourist attractions, giving visitors access to culture, architecture and culinary delights from a number of towns and cities in one trip. These places, located across the region's countryside, are home to onion-like domed churches, picturesque small cottages, and pretty orchards, allowing tourists to experience the Russia from times past.
25. Irkutsk
Irkutsk is on the smaller side, but is an interesting city, established in the 1660s. Although it's often used as a starting point for adventurers heading to Baikal Lake, there is lots to see and experience right here. The city centre is pretty and walkable, and hosts historical sights including handsome churches and wood houses featuring decorations carved by hand. The central market is also an interesting stopping point, as are the city's museums and art galleries.
26. Sochi
Sochi has become a well-known sporting centre in recent years, thanks to its hosting of the 2014 Winter Olympics and 2018 World Cup, although it has been a popular summer resort for many years. People flock to the city from June to September to enjoy the beaches and explore Sochi National Park, although its range of cultural offerings, including museums and historical buildings, make it a worthy destination at any time of year.
27. Rostov-on-Don
Rostov-on-Don (usually shortened to Rostov) is a thriving city, and arguably the most vibrant located in southern Russia. The Don river runs through the city, and there are also pretty leafy parks here and historical squares decorated with intriguing statues. Rostov is an ideal spot if you're planning on exploring the Northern Caucasus area and Black Sea coast.